H

old'em

R

esources

C

alculator
What is HRC?
Hold'em Resources Calculator is a popular ICM software tool. It's widely used by professional poker players to study Preflop strategy for the later stages of NLHE tournaments. You can dive right into the program by downloading the free trial or start out by experimenting with our free web-based tools first.
Download
Free Tools
Updates
New calculation features and additional site formats are added continuously
Quick Analyze
Lets you automatically analyze entire sessions for potential mistakes
Advanced Hands
Calculate Nash ranges for not only push/fold situations but also 3- and 4-bet situations
Multi Table ICM
Calculate tournament ICM effects before the final table
Future Game Simulation
Get improved equity estimates with the most advanced FGS implementation available
Easy Import
Import your tournament hands from history files or straight out of a PT4 / HM2 database
Next Generation MTT ICM Mode
HRC's multi table mode has been re-written from scratch and comes with a new high accuracy MTT ICM model.
The classic Malmuth-Harville ICM model is tricky to calculate for large fields. Most ICM tools either restrict the field size or use some crude approximation to generate tournament equity estimates sufficiently fast.
Our new MTT model approximates ICM incredibly well, easily within +/-0.01% accuracy for most spots, while being fast enough to run calculations with thousands of players. You can finally analyze those bubble spots in massive field tournaments and be confident about the results!
Model Details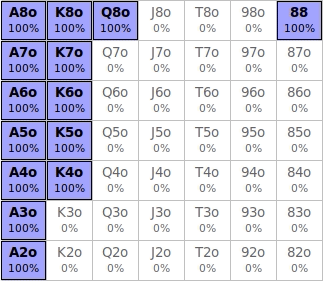 New Range Editor
The new HRC version comes with a faster and more intuitive range editor.
Left click to select individual hands
Right click to select hands of the same row or column
Hold left mouse button to select multiple hands
Mouse wheel to adjust mixed strategies
Monte Carlo Mode
HRC just got a second calculation engine!
Allows calculation of spots with more than 3 active players.
Fully accounts for all card removal effects, even from folded ranges.
Read More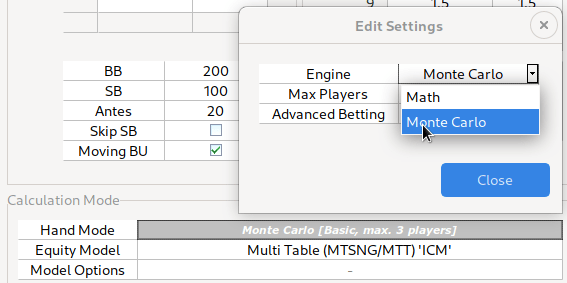 Operating System Support
Runs on 64-bit Windows, OSX and Linux. We recommend a minimum of 4GB available RAM
Hand Histories
Supports hand histories of most popular poker sites and additional sites are added upon request.
Supported Sites
Free Trial
Get started with a free, fully functional 14-day trial. Register your key directly in the program Download